SOUND-LOGIC-LA
We're thinking about making a USB adaptor available for you.
If this is of interest to you, please click here to let us know.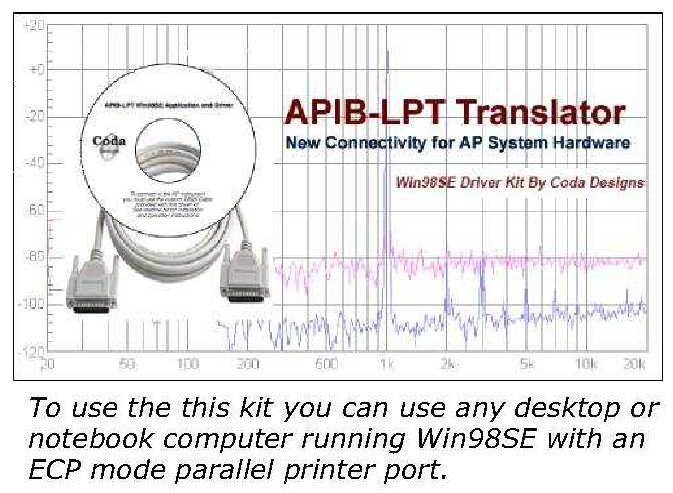 APIB-LPT Translator kit for Win98SE
The APIB-LPT Translator kit provides a simple and
cost effective way to use your System One,
System Two, or System Two Cascade, with a standard LPT port.
Due to a number of requests, Sound Logic LA is
now offering a driver kit for Win98 computers.
The kit includes an installation CD, a custom DB25
cable and documents.
You will need a computer running Win98SE to use this kit
The translator can be used with both APWIN and S1.EXE
(running in an MSDOS Window)
on any Win98 SE system with an ECP compatible LPT port.
The Windows 98 virtual device driver (Vxd) captures the
APIB port I/O and redirects it to LPT1 or LPT2.
The APIB-LPT Driver Kit is setup in three easy steps
1. Set Your computer's printer port to ECP mode (most likely the default setting).
2. Connect the APIB-LPT custom DB25 cable to your computer and your AP System.
3. Install and run the APIB-LPT Translator Software.
Download the APIB-LPT_LA.pdf here
* Cost for USA is $176.90 (Kit, Flat rate Shipping).
* Cost for CALIFORNIA is $196.30 (Kit, Flat rate Shipping & Tax).
* Cost for Export outside USA is $169.95 + Shipping & Insurance.
Please send your full address, and telephone number,
so I can get you a price.
What type of shipping (US Mail, FedEx, UPS)?
I also service & repair System Ones and have modules,
PCB assy, filter cards & parts.
PayPal: duke.aguiar@ieee.org